Vision Zero - The future without traffic accidents
Whether it's car body damage or personal injury: the worldwide accident figures in road traffic have been declining for decades. But despite technical innovations such as seat belts, ABS or airbags - there are still accidents resulting in fatalities every year in Germany. Continental has taken up this challenge - with an ambitious goal: in the future, there should be no more road deaths, no more injuries and no more accidents overall. To achieve this, technological know-how is required. And Artificial Intelligence.
Often things happen fast: too high speed, bad weather conditions or looking in the wrong direction - and then there is a crash. In the worst case, it is not only a dented car body, but people are injured or killed. In order to mitigate the consequences of an accident or avoid the crash altogether, car manufacturers and suppliers have been researching innovative technologies on and in the car for years. Proven assistance systems such as electronic stability control (ESC) or lane departure warning systems support the driver in tricky situations and noticeably increase safety in his own car. But what happens if a constellation is more likely to endanger other road users? This is where assistance systems whose functionality is based on artificial intelligence (AI) can help.
Predicting human behaviour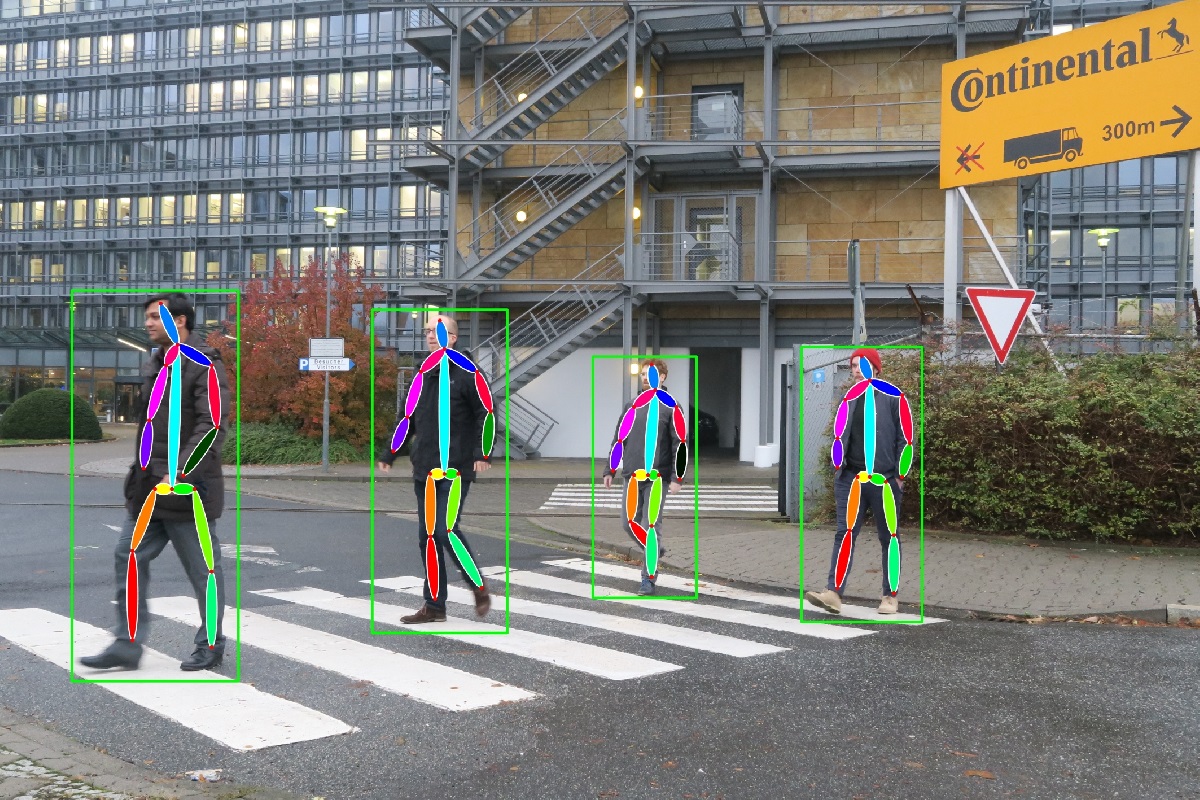 Pedestrians and cyclists are often unprotected in road traffic and therefore particularly vulnerable. A quick movement of the handlebars, an ill-considered step, a short step on the gas pedal. Any mistake can have fatal consequences if the car and human beings get too close.
Artificial Intelligence makes it possible for the vehicles of tomorrow to intervene to save lives. State-of-the-art camera and sensor technologies for accelerated object recognition enable intelligent software to recognize the behavior of other road users, for example, and predict their actions. In concrete terms, the method is based on the recognition of so-called key human points, i.e. eyes, nose, ears, but also shoulders or elbows. From these key points, the system generates a skeleton representation - and thus recognizes posture and direction of gaze. If these indicate to a pedestrian, for example, that he or she is starting to cross the road inattentively, an assistance system can either support the driver in initiating an emergency braking maneuver, or carry out this maneuver independently if the driver recognizes the dangerous situation too late. Of central importance in this context: By reliably detecting and evaluating key points, the system functions even when pedestrians or cyclists are partially concealed - a performance that would not be possible without the use of artificial intelligence.
An interplay of many factors
However, many factors are necessary to come closer to the goal of a future without traffic accidents - especially if one takes into account the progress made in the development of a world of autonomous driving. It is essential to think mobility holistically at this point. This includes not only the combination of assistance systems, AI applications and safety features of individual vehicles. The digital networking of road users and the traffic infrastructure will also be of major importance.
And, last but not least, raising awareness of avoidable dangers. The project staff and engineers at Continental know this first-hand. After all, serious accidents in which tires play a role occur time and again - but not due to material or design defects. Rather, people still underestimate the effects of insufficient tread depth, incorrect air pressure or simply the unpredictability of summer tires on slippery winter roads. And this despite the fact that tires are ultimately the only connection between the vehicle and the road.
Application facts
---
Technology field
Sensors and Communication
Data Management and Analysis
Human-Computer Interaction and Assistance Systems
Robotics and Autonomous Systems

Application industry
Mobility and Logistics

Field of application
Autonomous Driving and FlyingIntelligent Assistance Systems
AI Developers
Continental AG
Large Enterprise
Website