Detecting plant diseases and pests via app
End world hunger? A start-up from Berlin wants to use artificial intelligence to help make this old human wish a reality at last. The app Plantix uses a single cell phone photo to diagnose diseases in plants and shows farmers in developing countries various treatment options. Crop failures are to be minimized as a result.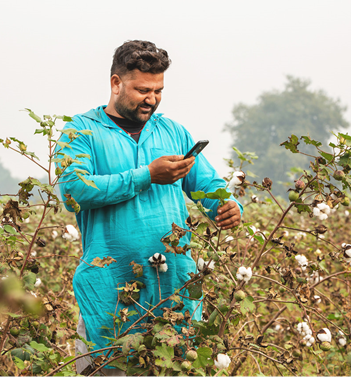 Aphids, fungi, worms and bacteria cause enormous crop failure in many regions of the world every year. Especially in developing countries, small farmers have to struggle with pests and parasites and are often helpless against them.
Geographer Simone Strey wanted to find a solution to this problem while she was still studying. In 2015, she founded the start-up PEAT and developed the app Plantix with her team. This can currently detect around 400 diseases and nutrient deficiencies in 30 different crop species. Farmers or gardeners not only find out what is wrong with the plant, but also receive specific recommendations for disease treatment.
AI-assisted image recognition for plant analysis
Here's how the app works: After installation, Plantix locates the smartphone's location and asks how the plant is grown, whether in the garden or in the field. Eight different types of fruit and vegetables - potatoes, onions, rice or bananas, for example - can be selected from a list. The user shoots a photo of a diseased plant and sends it to the Plantix server under the menu item "Health Check." There, the image is analyzed by an AI for known patterns. Seconds later, the user receives the diagnosis and possible tips on how to treat the plant.
Currently, the app is available for Android smartphones and in 18 languages, but not in German. "Our markets are where there is a high smartphone density in the countryside and many small farmers," says founder Strey. The app's target group is particularly small farmers in emerging and developing countries who cultivate areas of up to ten hectares. 80 percent of Plantix's more than one million users come from India. There, 200 to 300 million people are directly or indirectly involved in agriculture. At the same time, mobile Internet is widespread in India. According to estimates, around 462 million Indians are online and use a mobile device to do so. This is a decisive factor for the success of Plantix.
"A company that can change the world".
In 2017, the Plantix app won the CeBIT Innovation Award, worth 50,000 euros, and in the same year was named by Fortune magazine in its list of six companies that can change the world. In 2018, PEAT received the United Nations World Summit Award. Currently, the company employs 200 people, 50 of whom work in Berlin. It cooperates with the companies CIMMYT, zalf, CABI and the international research institute ICRISAT.
Application facts
---
Technology field
Image Recognition and Understanding

Application industry
Agriculture

Value-added activity
Production