Analysis of online offers for dealers and manufacturers
Webdata Solutions GmbH brings order to the product and price confusion on the Internet. Their self-learning software "blackbee" sifts through huge amounts of data and prepares them for national and international retailers and manufacturers.
Three desks, three laptops, a few shelves and a large flower meadow on the wall - Carina Röllig, Sabine Maßmann and Hanna Köpcke did not need any more equipment when they set up their start-up in 2012. Today, Webdata Solutions has around 30 employees, is one of the fastest growing start-ups in Germany and, according to its own statement, offers nothing less than "the revolution in market research on the Internet". What is behind the transformation from a garage company to an adult high-tech enterprise?
Worldwide market analysis
The central product of Webdata Solutions GmbH is "blackbee". The blackbee is an intelligent, self-learning and meanwhile multifunctional software. "We analyse online offers for different application areas", explains Carina Röllig, founder and managing director of Webdata Solutions. "What was originally just a price observation has now become a market analysis where I can see which dealer offers which products at which prices". With this information, blackbee customers can then determine their own product range: What is on offer and at what prices? Are there niches that can be served? Or are there trends that you are in danger of missing?
To do this, blackbee collects huge amounts of data on the Internet and prepares it in such a way that companies worldwide in all industries and in different languages can make well-founded decisions about their assortments and prices. Customers now include three of the six top-selling German online shops, as well as other leading national and international retailers and manufacturers.
Double learning
The first blackbee prototypes were created at the University of Leipzig. From 2010 to 2011, the German Federal Ministry of Education and Research funded the project as part of the "Unternehmen Region" programme "ForMaT - Research for the market in a team". The founder and current Chief Information Officer Sabine Maßmann recalls: "Coming from research, we were only interested in the technologies. However, she and the third founder, Dr. Hanna Köpcke, had learned from Carina Röllig, a business economist, "that it is not so important for the customer how the problem is solved, but rather what the benefit of using these solutions is.
Learning also plays a central role in technological terms. WebData Solutions uses algorithms based on machine learning, such as support vector machines. In this way, the software is able to recognise the characteristics and features of a product better and better over time. Currently, developers are working on using even more artificial intelligence. So-called deep learning algorithms should make it possible to obtain additional information from the analysis of images. "Often the descriptive text is very sparse," says Hanna Köpcke. For example, sneakers are described as "white", but colored applications are not mentioned. "This can be decisive for the price, and with the help of artificial intelligence we can determine this difference.
Application facts
---
Technology field
Data Management and Analysis
Image Recognition and Understanding

Application industry
Trade

Value-added activity
Marketing/Sales

Funding
Bundesministerium für Bildung und Forschung (BMBF)

AI Developers
Webdata Solutions GmbH
Start-Up
Website
Interview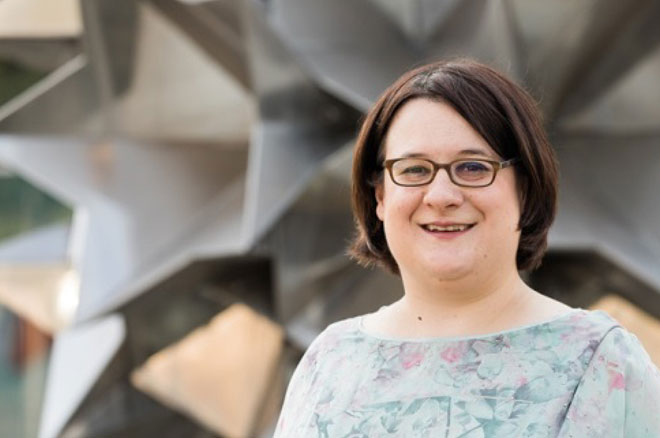 Die Webdata-Solutions-CTO Dr. Hanna Köpcke über lernende Maschinen und die Potenziale Künstlicher Intelligenz.
Frau Köpcke, was ist Künstliche Intelligenz?
Hanna Köpcke: "Intelligent" ist ja ein sehr allgemeiner Begriff. In der Informationstechnologie bezeichnet man ein System als intelligent, wenn es Eigenschaften und Verhaltensweisen zeigt, die man gemeinhin dem Menschen zubilligt. Das kann zum Beispiel die Fähigkeit sein, ein Bild zu interpretieren oder auf sprachliche Äußerungen zu reagieren. Im engen Sinn sprechen wir von Künstlicher Intelligenz, wenn eine Maschine wahrnehmen, verstehen, handeln und lernen kann.
Wie schaffen es Maschinen, zu lernen?
Hanna Köpcke: Das maschinelle Lernen ist ein Verfahren, das sich auf Computeralgorithmen – also konkrete Handlungsanweisungen – stützt. Auf Basis dieser Algorithmen können lernende Systeme in Daten Muster erkennen – ohne dass der gerade interessante Einzelfall programmiert wurde. Wenn Sie zum Beispiel ein Glas fallen lassen, wissen Sie, dass es zerbricht, obwohl Sie es mit diesem Exemplar noch nicht ausprobiert haben. Sie haben aber schon einmal ähnliche Erfahrungen mit vergleichbaren Objekten gemacht. Nach genau diesem Prinzip funktioniert das maschinelle Lernen.
Und was bringt uns Künstliche Intelligenz in der Zukunft?
Hanna Köpcke: Ich habe die Hoffnung, dass Künstliche Intelligenz uns Menschen zeitraubende Arbeiten abnimmt und dadurch mehr Zeit für wichtige Dinge bleibt. Krankenpflegerinnen und -pfleger müssen heute aufwändig dokumentieren, welche Untersuchungen durchgeführt, welche Medikamente verabreicht oder welche Alarme ausgelöst wurden. Wenn das in Zukunft automatisiert geschieht, bleibt mehr Zeit, um füreinander da zu sein. Das wäre ein echter Fortschritt.
---