Solutions for efficient and resource-saving agriculture
Around ten billion people will inhabit the planet in 2050. It will be necessary to supply them with food. But global resources and arable land are limited. In addition, CO2 emissions in agriculture must be reduced in order to achieve the climate targets that have been set. With the help of artificial intelligence and robotics, researchers at the Fraunhofer-Gesellschaft are developing automation concepts, monitoring solutions, cognitive services and an integrated platform to meet these challenges.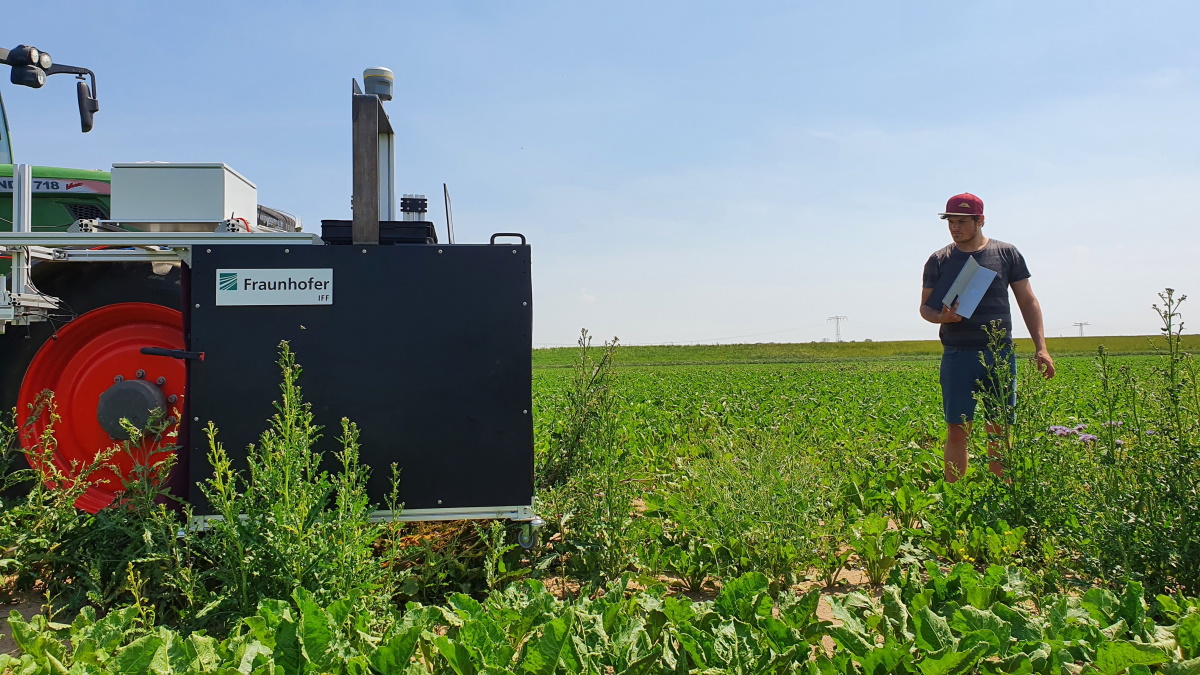 Soil compaction, intensive fertilization, the excessive use of herbicides, pesticides and fungicides - all of these are putting a strain on the world's agricultural land. "We want to counter these ills in agriculture with the use of artificial intelligence. Farmers should not be replaced by AI. However, computational models can provide them with targeted support in their work," says Ralf Kalmar, a computer scientist at the Fraunhofer Institute for Experimental Software Engineering IESE and coordinator of the "Cognitive Agricultures" (COGNAC) research project.
The Fraunhofer-Gesellschaft's flagship project started in 2018. Eight Fraunhofer Institutes are jointly researching solutions to produce agricultural products in an environmentally friendly, resource-saving, and highly efficient manner.
Reducing the use of pesticides with AI
The aim of the research project is to automatically record data on complex interrelationships in field management. Machine learning methods are used for this purpose. For example, agricultural robots, known as agrobots, can use their cameras and sensors to independently distinguish weeds from crops in the fields and treat them accordingly. This reduces the use of pesticides.
Data on seeds and fertilizers, soil and pest infestation, weather and climate, market development and expert knowledge are networked and analyzed using AI methods. This will optimize fertilizer compositions, seed coatings and crop characteristics for the next growing season.
High-resolution measurement data from airborne or ground-based systems contribute to automated interpretation and decision support. This novel agricultural sensor technology allows, for example, seismic imaging of soil compaction and an analysis of soil nitrogen content to be reconstructed. Also, classification of soil areas and vegetation using hyper- and multispectral optical methods is possible with this technology.
Cognitive services and the application of AI-based methods represent a central component of the Fraunhofer lead project. These are systems that provide a helpful and natural interface for humans to support daily work in agriculture. For example, solutions are to be found for displaying and controlling the nitrogen balance in the nutrient cycle with the help of cognitive services. The services are also intended to make harvest planning easier for farmers.
Information-based ecosystem for agriculture
Another goal of the scientists is to create a large and secure data space for agriculture (Agricultural Data Space). Until now, data in the agricultural industry has been collected and analyzed in a decentralized manner. An open exchange should make it possible to bundle and link measurement data from different areas of agriculture. This will enable farmers to exchange information with authorities, environmental organizations, cooperatives and machine manufacturers simply, quickly and, above all, securely. The project aims to create an information-based ecosystem for the agricultural sector, providing farmers, for example, with a basis for decision-making across all levels - from soil conditions to market situation. The Agricultural Data Space is set to become a milestone in digitized agriculture.
Application facts
---
Technology field
Data Management and Analysis
Image Recognition and Understanding
Sensors and Communication
Robotics and Autonomous Systems

Application industry
Agriculture

Field of application
Intelligent Assistance SystemsIntelligent AutomationIntelligent Sensor TechnologyQuality ControlRobotics
Value-added activity
Production
Research and Development [R&D]

AI Developers
Fraunhofer-Institut für Experimentelles Software Engineering IESE
University/Research Institution
Website
AI Development partner
Fraunhofer-Institut für Fabrikbetrieb und -automatisierung IFF