Intelligent surgery management
In hospitals, planning operations is a complex undertaking: Every day, acute emergencies and short-notice staffing bottlenecks throw procedures into disarray. Artificial intelligence promises to bring order to the chaos of surgical appointments. A software company from Berlin has developed a self-learning program that uses all available parameters as well as data from previous surgeries to create an optimal OR schedule.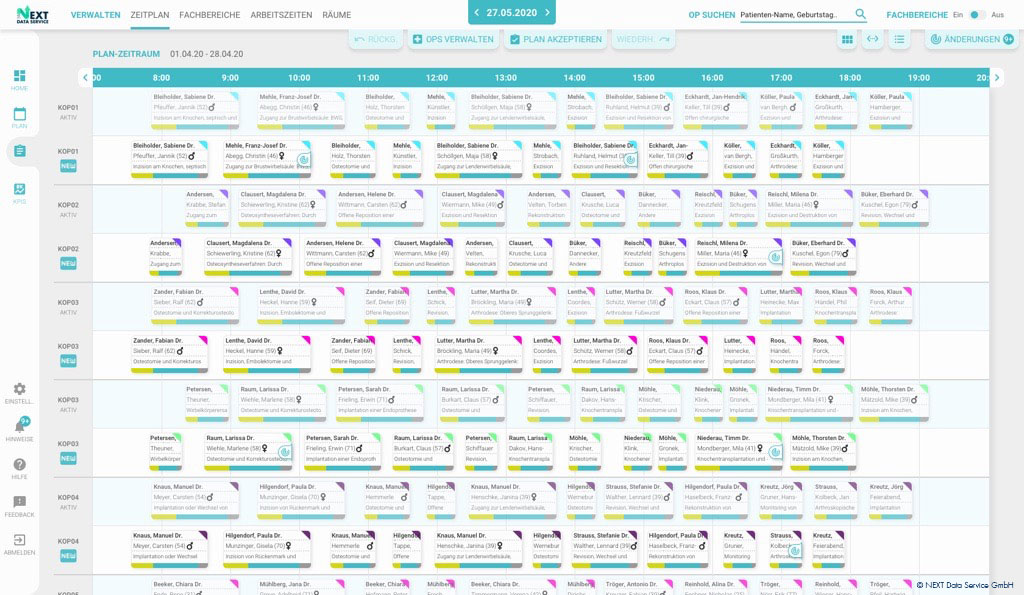 If urgent surgery appointments cannot take place as planned or are even cancelled due to discrepancies in scheduling, patients and medical staff are very annoyed. Not to mention the enormous costs caused by the missed surgeries.
The Berlin-based start-up NEXT Data Service wants to bring better planning and predictability to everyday hospital life with its AI-based program nextOR. The software collects about 100 factors that flow into surgery planning. Among other things, all relevant historical patient data and current findings are analyzed and evaluated together with the general operating conditions. The result is precise estimates of the operating times for each individual operation.
Optimal utilization of operating rooms
The innovative approach of the AI software is that the OR plan is updated in real time, so that everyone involved in the operation is always up-to-date and high manual communication efforts are eliminated. Time as well as material and patient-related resources are already taken into account and reserved during planning. Vague planning can thus be avoided and OR slots reserved through proactive forecasting.
The company promises that the use of nextOR will also improve employees' working conditions. Overtime could be avoided through more efficient planning. More time could be used for further training, for example. The start-up also promises that the utilization of operating rooms will improve - and thus become more cost-efficient.
For ajoint project with the Hessing Foundation from Augsburg and UNITY from Berlin, NEXT Data was awarded the "Healthcare Industry of the Future Prize 2019". The prize was awarded for the beneficial use of AI in OR planning. Currently, the software is already being used in various German and Luxembourgian hospitals.
Application facts
---
Technology field
Data Management and Analysis
Human-Computer Interaction and Assistance Systems

Application industry
Health and Pharmaceuticals

Field of application
Optimized Resource ManagementData AnalyticsPredictive Analytics
Value-added activity
Purchasing/Procurement
Production
Marketing/Sales
Service/Customer Service
Logistics [Inter- and Intralogistics]
Research and Development [R&D]
Operational/Strategic Planning
Human Resources HR
Finance/Tax/Law
Corporate Infrastructure
Miscellaneous

Video
---
How hospitals can save time and money with nextOR software.