Forest damage monitoring
Climate change, uncontrollable fires and the bark beetle are real threats to our forests. The drought years 2018 and 2019 have caused massive damage to Germany's forests, and almost all trees are suffering from the continuing drought. In two research projects, scientists from the Technical University of Berlin are using artificial intelligence to investigate the resulting forest damage in more detail.
The German forest is not only the habitat and basis of life for humans and animals; around one million jobs in Germany depend on it. The enormous shortage of water is currently giving the forest a hard time. "This year alone we had forest fires on an area of 2,700 hectares. This has not happened for 30 years," explains Prof. Dr. Birgit Kleinschmit, who heads the Department of Geoinformation and Environmental Planning at the TU Berlin.
A strategy is needed to adapt forests to climate change. Before this can be developed and recommendations to forestry can be derived and implemented, a precise inventory of the various types of forest damage and their extent is required. This is where two research projects of the TU Berlin come in.
Earth observation to detect damage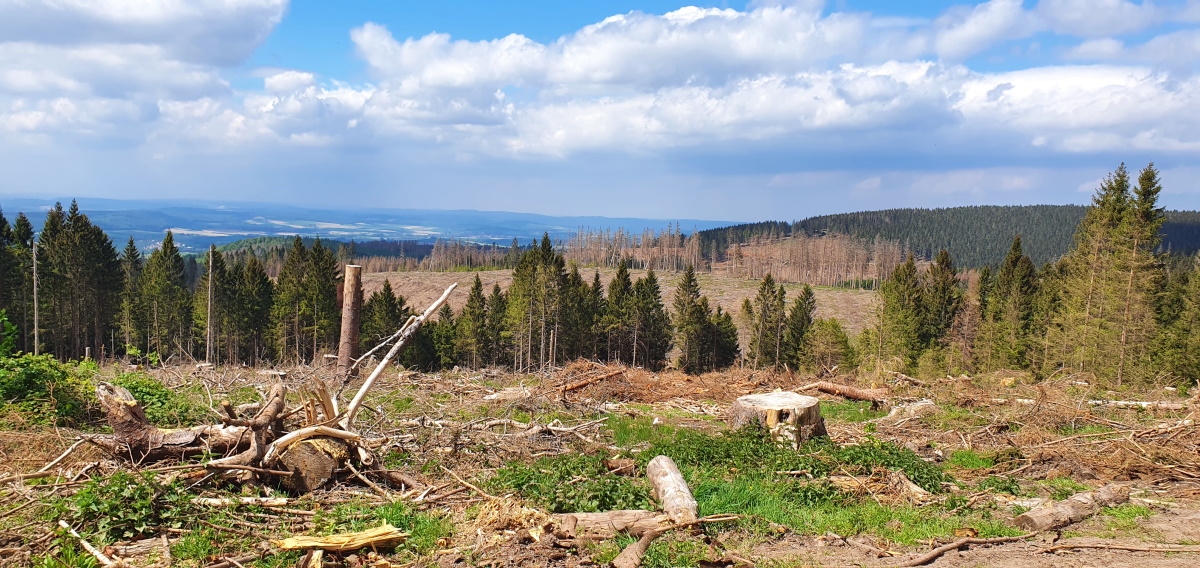 The aim of the FirSt2.0 project is to develop a software product for stakeholders in forestry and nature conservation. Using multi-sensorial satellite remote sensing data, measurements of soil moisture and other stress parameters as well as methods of artificial intelligence or machine learning, it will allow a precise, continuous investigation and analysis of the condition and types of damage of forests. This service is intended to enable forestry and nature conservation to improve forest management.
"We are looking for calculation methods for the state of vegetation, which we find on site and measure with highly sensitive technology - i.e. forest damage such as declining leaf mass, wilted or prematurely falling leaves and others - from which damage can then be derived and extrapolated for a larger area, and later even for the whole of Germany," explains Dr. Michael Förster, who coordinates the project at the TU Berlin. Other participants include LUP - Luftbild Umwelt Planung GmbH, Landesforstbetriebe, the Thuenen Institute for Forest Ecosystems, forest owners' associations and the Bavarian Forest National Park.
Combination of AI algorithms and satellite data
The joint project TreeSatAI develops innovative AI methods for infrastructure, nature conservation and forest monitoring. Of particular research interest is the combination of AI algorithms with large amounts of current satellite and drone data, information from existing, including European, environmental databases, social media and scientific data to identify and monitor the condition of forests locally, regionally and Europe-wide.
Involved in this project are the Startup liveEO GmbH and LUP GmbH. Together with the German Centre for Artificial Intelligence (DFKI) and Startup Vision Impulse GmbH, they are developing innovative prototypes for infrastructure, nature conservation and forest monitoring. Through close cooperation with several small and medium-sized companies, associations and administrations, both research projects pursue an active knowledge transfer to the economy and society.
Application facts
---
Technology field
Image Recognition and Understanding

Application industry
Construction and Infrastructure
Energy and Environment
Administration and Security

Field of application
Intelligent AutomationOptimized Resource ManagementPredictive AnalyticsKnowledge Management
Value-added activity
Research and Development [R&D]
Operational/Strategic Planning

Funding
Bundesministerium für Bildung und Forschung (BMBF)

AI Developers
Technische Universität Berlin
University/Research Institution
Website
AI Development partner
DFKI Standort Kaiserslautern
LiveEO GmbH
LUP – Luftbild Umwelt Planung GmbH